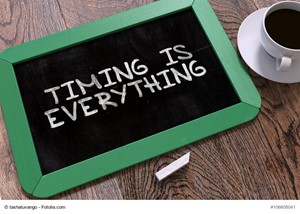 If you're ready to sell your home, you may wonder if the time is right. Timing is truly everything when you're selling a home. If you have some flexibility, it might be a good idea to wait to sell your home. Even with time constraints, there are a few strategies to employ that can help you find the sweet spot in your time frame.
The Month Matters
It's widely accepted in the real estate community that the best time to sell a home is in the spring. Since people want to get moved in over the summertime, May could be the best month of the year to put your home on the market. 
Why Spring?
Springtime offers favorable weather conditions in most places. The good weather means that it's easy for buyers to get to open houses. Homes will also look more attractive with green grass and flowers blooming. Parents also want to get their kids settled into a new home and new neighborhood over the summer months before they start a new school. 
Competition
The favorable conditions along with the urgency of springtime buyers translate into more competition which equates to a better price tag for your home because buyers are willing to pay more due to the anxiety of wanting to find a place. 
The Day Of The Week Matters
Most buyers start looking for homes when they have free time which is generally on the weekend. That means the end of the week- preferably a Thursday- is a good day to pick to list your home. Homes that were listed earlier in the week will be farther down on the search page. Buyers will be more likely to see your listing first the later in the week that it's listed.   
Consider Your Needs
While timing is a good marketing strategy to sell your home, you need to go by your own timeline. If you need to move due to a job change or other life circumstances, you can't wait to sell. There are pros to selling during many different times of the year; it just may not be as busy or competitive on the buyer's side of things. Selling your home fast might not be a sure thing. No matter what time of year you decide to sell your home, just make sure it's inviting to buyers.